Fast, cheap & somewhat in control
Ten lessons from the design of SlideShare
Rashmi Sinha
This talk is about how we used agile design methods for SlideShare and the lessons learnt. Just how much of the IA toolkit gets left behind? Is the death of IA imminent? Come hear the answers at this reprise of the closing plenary of the 2007 IA Summit in Las Vegas.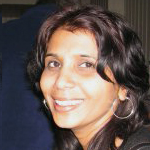 Rashmi Sinha is a designer, researcher and entrepreneur. She leads the team that created SlideShare (often described as "YouTube for Powerpoint"), and MindCanvas (think online surveys meet online games).
Prior to Uzanto, Rashmi worked as a researcher at the School of Information Management, UC Berkeley. She received her Ph.D. in Cognitive Psychology from Brown University. Rashmi writes a blog at rashmisinha.com using a social and cognitive lens to examine people's interactions with technology. She is involved in the HCI community, was one of the founding members of the Information Architecture Society, and co-chairs the monthly BayCHI talk series.